2007-10-15
The friendly, unbelievably affordable home NAS device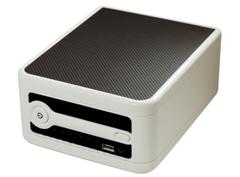 10/18/2007 – Movies, music, and photos. Users nowadays not only want to store and protect them, but have a way to share them quickly and easily. One of the best ways to do this is with a network-attached storage unit, or NAS – a device which allows users to store and share files across an entire network. Since the beginning, storage leader Thecus Technology has been developing digital storage solutions for users of all types. Today, Thecus is pleased to introduce a NAS device that brings this exciting technology to the mainstream – the N299. Friendly and feature-packed, the N299 represents Thecus' most affordable NAS entry ever.
Users expecting a watered-down NAS device will be pleasantly surprised with the N299. Like other Thecus storage solutions, the N299 comes with many of the same features and functionality of its more premium brethren. Two 3.5" SATA hard disk bays enable up to 2TB of storage capacity, while convenient and speedy USB 2.0 ports make storage expansion easy. Users can choose between RAID 0, 1 or JBOD depending on their needs, and two Gigabit Ethernet ports ensure speedy access to stored data. Users can even opt to install a compatible wireless USB dongle for easy wireless access to the N299!
The N299 is perfect for storing and sharing digital media files with its built-in software suite. The iTunes® Server and Photo Web Server allow users to easily share music and photos respectively with PCs throughout their network. The included Media Server enables users to stream videos and more to compatible uPnP devices such as digital media receivers, allowing them to enjoy their digital media anywhere in the house. The N299 also comes with a convenient Download Manager, which allows users to schedule BT, HTTP, and FTP downloads during off-peak hours to save both time and energy. And for true peace of mind, the N299 can even be used as a simple home surveillance server by plugging in a compatible IP webcam! All of this is administered through an easy-to-use web-based interface compatible with any browser in Windows, Mac OS, and Linux-based environments.
"Digital storage is our passion, and the N299 demonstrates our desire to share our passion with as many users as possible," says Thecus General Manager Florence Shih. "With excellent functionality at a very reasonable price, the N299 is our most affordable NAS device yet."
For more information on Thecus, go to: http://www.thecus.com
---
About Thecus
Thecus® Technology Corp. specializes in IP Storage Server solutions. The company was established in 2004 with the mission to make technology as transparent and easy-to-use as possible, and to make products that are not only the best on the market, but are accessible to experts and novices alike. With a best-in-class R&D team highly experienced in storage hardware and software and with a keen customer focus, Thecus® stays close to the market to develop high-quality products to fulfill the storage needs of today's world.
For more information, please visit the Thecus® website at: http://www.thecus.com
For sales and other inquiries, please contact us via email: sales@thecus.com