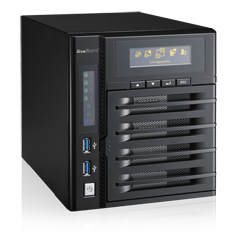 Linux Embedded All-in-One Systems
Default in Secured Storage in RAID Functions
Adjustable Storage Capacities for Single RAID NAS
Retail Package for Home and Soho Surveillance Market
Flexible Adding Camera Licenses and Advanced Featured Modules
Sophisticated Surveillance Software with Optional Modulized Features
特徴
1. Thecus® VisoGuard NVR Standard Features
Linux Embedded System
No more doubts about hacker and virus threat, overall less operating expenses for an effective NVR solution.


All-in-One System Solution & Quick Installation in Less than 30 Mins
Combine storage center, (video capture card,) network server, and software all in the one unit. Thecus® VisoGuard NVR are ready-to-go right out of the box: just create RAID, install NVR plug-in, and your NVR is up and running in less than 30 minutes. Camera Setup Cloning lets you save more time by using the same settings for different cameras with one click of a button.

RAID Functions
Single RAID functions allow users to set up their NVR for specific assignments. Whether it's improved performance or redundancy, RAID Functions allow different features for different needs. (adjustable and default 30% HDD capacity for NAS; supports xfs format, samba/FTP server: WebDisk, Piczza! photo server, USB/eSATA backup, transmission and NZBGet, etc.)

Multi Recording Video Formats
It support H.264, MPEG-4, MJPEG and Motion-PEG formats. "Dual-Stream Video Analytics" will auto record the videos in a most suitable format.

Export in Multi Format Video
Supports AVI, JPEG or SAFE file format for exporting. SAFE file is a non-manipulable file which includes a player: Video + Player = SAFE. And this player includes e.g. known features from the online monitor or archive player such as digital PTZ, displaying iCAT visuals,… And furthermore, multiple camera streams can be exported into one SAFE file.

Live Viewing in Multi-Screen Operation
"Dynamic Viewport" offers viewing everything at once with drag and drop functionality across multiple screens. Each screen is capable of displaying multiple camera views, full screen, or both.

Multi-Streaming Support
Supports multiple MJPEG streams + 1ch. H.264 stream or 1ch. MPEG-4 stream from the same camera to VisoGuard. (e.g. online viewing and recording can be done in different size and frame rates.)


Motion Detection
Motion detection functionality gives you the ability to select a time frame during which motion detection will be activated. You can also limit motion detection to a portion of the viewing field in order to monitor specific items or areas, and record their surroundings when selected areas are activated.It supports multi Motion Detection per camera.

PTZ
Remote PTZ (pan/tilt/zoom) control allows you to adjust a camera's view angle and zoom, from monitoring stations anywhere around the world. Also, get more control of your cameras with adjustable aspect ratios, HDTV support, stretching and cropping of video, and advanced port control.

Event Management System
‧Information Messages ‧System Malfunction Message ‧Camera Status Changee ‧Camera Specific Message
‧Video Annotation ‧Status Change Events ‧Video Analytics (iCAT) ‧External Event Handlers
Event alarms and detailed records work with motion detection and video analytics to keep you aware of everything that is happening. Alarms and records are easily configured, accessed, and navigated through an easy-to-use Event Management System. Video streams can be marked with advanced time stamps for powerful searching and analysis. Events can be prioritized to make your surveillance system react only to specific actions, creating fewer false alarms. It supports 3rd party integrated system via SNAP, I/O contacts and the new URL Command API, etc.

5 Megapixel
Supports 5 megapixel resolutions from each camera or higher


Playback
Video playback offers a convenient way to analysis recorded data. It allows 4 videos playing back at the same time.


Browser & Remote Access
Ability to access the internet and implement remote access.


10x10 viewports
Supports up to 10X10 viewports in one view of a screen

2. Optional Features available in VisoGuard Core/ Basic/ Extended/ Enterprise Edition
Mobile Client Viewing
-iPhone Client: supports MJPEG live monitoring
-Android Client


ABS
The unique ABS (Adaptive Balanced Streaming) technology is capable of supporting megapixel cameras serving in limited bandwidth environments. The advanced technology produces high quality images even if bandwidth is low.


Smart Tripwire©
The unique Smart Tripwire© technology prevents the duplicate and incorrect counting of objects. A Smart Tripwire© is directional and only counts objects that have been detected in the source area first and then moves across. The benefit is reducing error ratio of complex customer frequency monitoring from 20% to 5% compared to former systems despite complex shop architecture. It can be used as a Perimeter Protection in the meantime.

Visual Statistics©
iCAT has the ability to collect statistics for object counts, speeds and sizes, stopped objects and objects' stopping time. The following statistics can be visualized by intricate color overlays or normal video stream, via online monitor system and users can replay captured data.

Object Detection and Tracking
For each camera, a tracking region that is either in full camera view or part view - form of a polygon or rectangle can be defined. Object detection and tracking can also be restricted by object size, speed, and X/Y size ratio.

Removed and Abandoned Object Counting
iCAT could be programmed to detect removed and abandoned objects with possible constraints for stay duration and object sizes.


LNT
Layout Navigation Tool (LNT) offers sophisticated navigation features for large systems. It is easy to set up hierarchical layouts as well as close integration with Thecus surveillance, therefore making it an ideal solution for larger installations.

POS
POS Monitor is an intelligent Windows based module for video monitoring of POS transactions. It enables the system to detect and reduce cashier-related mistakes, misunderstandings and even fraud. Flexible archive search tags like "discount," "staff name" and video stream ensure a clear picture of the event.

SNAP
SNAP XML provides flexible basis for integrating all kinds of external systems and applications. Much integration is already available, new integrations can be carried out with minimal effort and cost.


Privacy Mask
The ability to fully conceal sections of the screen.


Camera Sabotage Detection
Detect misconduct if cameras are tampered with.


Lighting Change Detection
Spot lighting change within camera view.


Active Directory
Differentiate between system administrator or normal user.


Camera Connection Encryption
Fully secure camera connection.


Control Center Module Video Wall
Handle up to 10x10 monitors and flexibly control views and layouts or maximize individual camera streams in any of them from a single client PC. It is also possible to work with multiple control consoles in parallel. The application is accessible via the URL http://server-ip-address/videowall in standard web browsers.

*iCAT video analytics is effective and works with all cameras. It provides user friendly set up and powerful object detection, tracking mechanisms and statistics module with integration to the event management system. iCAT offers a wide range of flexibility, grants usage in difficult situations with various camera perspectives. Utilities include: object and people tracking/counting, detection of removed and abandoned objects and more. Distinct from traditional video analytic solutions, Thecus® VisoGuard® NVR all-in-one solution offers flawless surveillance and demonstrates outstanding results in its sector.
概要
Definitely, 2013 starts with a big boom at Thecus®. After the launch of the N12000PRO and N16000PRO, the announcement of the 64 bit ThecusOS™ 6.0, the unveiling of the N2520/N4520 and Intelligent NAS utility at CeBIT 2013, it's time for the NVR family to impress the world with 7 new devices with updated architecture to offer superior performances.
We here by present you in tower format the V2510, V4510, V5510 and V6810; and for the rackmount category, we have the new V4510U, V8810U and V16810U. All equipped with the VisoGuard® security system management software developed in partnership with Netavis, these new NVR will offer better performances than ever for all type of users with needs of 2, 4, 5, 6, 8 or 16 bays of storage.
V2510
Cousin of the N2800, the 2-bay V2510 from Thecus® is also equipped with a 64bit Intel® Atom™ processor, 2GB of DDR3 RAM, features a USB 3.0 port, an eSATA port, a card reader, HDMIand VGA output and is the perfect candidate for home security system management. With its fanless CPU, this unit is also an ecologic choice as it consumes less energy and keeps its noise emission to a low level.
V4510 and V4510U
Similar to the N4800 and the N4510U NAS, the V4510 and V4510U are the latest 4-bay NVR option with an Intel® Atom™ processor. The tower and rackmount both feature 2GB of DDR3 RAM, 2-USB 3.0 ports, one eSATA port, HDMI and VGA output. These VisoGuard® equipped little jewels will offer you the most flexibility between tower and rack units with great performances, great connectivity and 4 bays for up to 16TB of storage.
V5510
Starting from its release in 2012, the N5550 received many awards and is now setting the standard in terms of 5-bay NAS around the world. Due to its huge success, it was an easy decision to transform this high performance NAS into an NVR. Therefore, the V5510 from Thecus® comes equipped with a 64bit Intel® Atom™ processor, 2GB of DDR3 RAM, a USB 3.0 port, an eSATA port, HDMIand VGA output. When it comes to perfect balance between storage and performance, the V5510 will definitely satisfy the home users and SMB alike. As everyone requires more and more performance from their devices, the V5510 has an available PCI-e slot in the back ready to host more Ethernet ports and provide the users with increase throughput from link aggregation.
V6810
If you are that user who has many cameras to handle, a lot of data to store, no rackmount cabinet and expect fast performances from your network video recorder, search no more! The V6810 will meet your needs. Equipped with an Intel® Core i3 processor and 4GB of DDR3 RAM, this tower format NVR will offer you up to 24TB of storage and processing speed worthy of the best.
V8810U
Intel® Core™ i3 processor, a massive 8GBof DDR3 RAM, standard USB3.0 port, HDMI output, this is what you get in a rackmount format with the V8810U. With built-in redundant power supply, this 8-bay NVR makes your data invulnerable to power supply failure. Having enough space for 32TB of storage, many days of storage from a great amount of camera will be recordable to the V8810U.
V16810U
Ultimate storage capacity and ultimate security! With 16 bays for a possible 64TB of storage, memory capacity won't be a problem. Multitasking and multi users won't give you any headaches either. Equipped with an Intel® Xeon® E3-1275 CPU and 8GB of DDR3 RAM, the V16810U will be able to handle the heaviest tasks. Failure from the power supply won't equal to data loss and unwanted downtime as this rackmount is equipped with redundant power supply,

"With these new models, we aim to bring to the NVR market a flexible and scalable solution for home or business." said Florence Shih, General Manager of Thecus® Technology. "Our NVR solution offers the power and security features that Thecus customers have come to expect."
VisoGuard®,Keep watching
Developing the proper software solution is essential. That's why Thecus® decided to go on with a highly acclaimed partner already well-established in the digital video industry. NETAVIS, "the pioneer of server-based video surveillance with seamlessly integrated video analytics", offers the best in NVR software solutions, giving VisoGuard® customers a wide array of innovative software tools to make use of Thecus' powerful hardware. Thecus® VisoGuard® line has many features that allows convenience and flexibility when it comes down to security appliances. As it is an all-in-one NVR solution, it offers many services such as a network video recorder, real-time monitoring system, and networked storage unit.
The new NVR systems are going to adapt the latest Netavis software v4.4. In addition to a multitude of basic capabilities (motion detection, hundreds of compatible cameras, multiple OS support, scheduling, various video format support, PTZ control, and so on.) VisoGuard® NVR comes with numerous advanced functions, providing extensive and formidable functionality while remaining flexible and easy to use.
スペック
1. ハードウェア仕様
項目
仕様
プロセッサ
Intel® Atom™
システムメモリ
2GB DDR3
LAN インターフェイス (PCI-e)
RJ-45x2: Intel 82574L 10/100/1000 BASE-TX オート MDI/MDI-X
WOL対応
USB インターフェイス
USB 2.0 ホストポート x2 (背面 x2) (Type A)
USB 3.0 ホストポート x2 (前面 x2) (Type A)
LCM
LCM ディスプレイ
4 ボタン (ENTER, ESC, UP, DOWN)
多国語対応
HDMI 出力
HDMIポート (背面x1)
VGA 出力
VGAポート (背面 x1)
オーディオ
ライン出力(背面 )
ディスクインターフェイス
4 x SATA for internal
1 x eSATA for external
電源
ACアダプター
システムクロック
バッテリーバックアップシステムクロック
電源管理
停電後の自動電源オン
ブザー
アラーム頻度を調整
タッチパネル
電源ボタン
OLED ボタン
使用環境
温度: 5℃ ~ 40 ℃
湿度: 0 ~ 80 % R.H. (結露なきこと)
ケースタイプ
タワーベース
サイズ (高x幅x奥)
192 x 172 x 250 (mm)
重量
13.08Kgs
Certificates
CE/FCC/C-Tick/VCCI/BSMI
RoHS
WEEE

2. ソフトウェア仕様
RAID
RAID モード
RAID 0, 1, 5, 6, 10and JBOD
オートリビルド
対応
ホットスワップ
対応
Dedicatedホットスペア
対応
ディスク管理
電源管理
アイドル時ハードディスクをスピンダウン設定
SMART情報
対応
ネットワーク
構成
固定IPアドレス/ダイナミックIPアドレス
転送プロトコル
TCP/IP
ファイルプロトコル
SMB/CIFS, FTP, NFS v4, DDNS, UPnP, Port forwarding
TCP/IP
IPV6 & IPV4
データアクセス
クライアント対応OS
Windows XP and after
FTP
帯域幅制御のファイル転送プロトコル対応
データバックアップ
USBデータコピー
OLEDでのコントロール
ボリューム管理
複数選択ファイルシステム
XFS
ユーザ認証
ローカルユーザ
ユーザーアカウント追加対応
ローカルグループ
ユーザーグループ追加対応
ファイルシステム
タイプ
ジャーナリングファイルシステム
言語対応
ユニコード対応
認証管理 (ACL)
ユーザー、グループレベルでの読み取り、書き込み権限の制限
管理
ユーザーインターフェイス
ウェブベースインターフェイスによる管理 英語、中国語(繁体字)、中国語(簡体字)、日本語、韓国語、フランス語、ドイツ語、イタリア語、スペイン語、ロシア語 、ポーランド語、ポルトガル語、トルコ語、チェコ語に対応
ユーティリティプログラム
MS Windowsセットアップウィザー
Windows 8/7/Vista/2003/XP/2000 対応
Mac OS X セットアップウィザード
Email通知
システム管理者へEメールによるシステムメッセージの通知
その他
ユーザモジュール
対応
ローカルディスプレイ
HDMI /VGA出力
UPS
対応
Surveillance (Depending on customers' needs)
| | | | | |
| --- | --- | --- | --- | --- |
| Functionality | Core | Basic | Extended | Enterprise |
| Max. nr. of Interconnected Servers | 1 | 1 | 3 | Unlimited |
| Max. nr. of Users per installation | 3 | 10 | 20 | Unlimited |
| Video formats (MJPEG, MPEG-4, MxPEG, H.264) | Yes | Yes | Yes | Yes |
| Export (AVI, JPEG, SAFE) | Yes | Yes | Yes | Yes |
| Multi Monitor | Yes | Yes | Yes | Yes |
| Remote access | Yes | Yes | Yes | Yes |
| Browser access | Yes | Yes | Yes | Yes |
| Event Management System (EMS) | Yes | Yes | Yes | Yes |
| PTZ control | Yes | Yes | Yes | Yes |
| Notification (Email, Alarmbild) | Yes | Yes | Yes | Yes |
| Motion Detection | Yes | Yes | Yes | Yes |
| Smart Phone Client (iPhone) - per user | Optional | Optional | Optional | Optional |
| LNT (Layout Navigation Tool) - per user | n/a | Optional | Optional | Optional |
| Sabotage Detection - per camera | n/a | Optional | Optional | Yes |
| ABS (Adaptive Balanced Streaming) - per camera | n/a | Optional | Optional | Yes |
| Encryption - per camera | n/a | n/a | Optional | Optional |
| iCAT (Video Analytics) - per camera | n/a | Optional | Optional | Optional |
| Retail POS monitor - per pos | n/a | n/a | Optional | Optional |
| Active Directory - per server | n/a | n/a | Optional | Yes |
| Archive Encryption - per server | n/a | n/a | Optional | Optional |
| Number Plate recognition CarReader - per NPR camera | n/a | n/a | Optional | Optional |
| SNAP XML interface - per application | n/a | n/a | Optional | Optional |
| Retail Pegasus convention rate monitor - per project | n/a | n/a | Optional | Optional |
* Note: Actual VisoGuard NVR function and performance are limited by hardware specifications. Higher hardware specifications on NVRs and Client PC's will result in improved performance.